BCom (Hons) FinTech included in the Study Subsidy Scheme for Designated Professions/Sectors Apply through JUPAS in 2021
Hong Kong Shue Yan University (HKSYU) has increased its communication efforts to spread the information about its Bachelor of Commerce (Honours) In Financial Technology programme, which has been included in the 2021/2022 Study Subsidy Scheme for Designated Professions/Sectors (SSSDP). The Department of Economics and Finance, which hosts the programme, believes that since the places of the FinTech programme are allocated through JUPAS and the programme has the unique "Four Pillars of Courses", the 30 subsidised places allocated to the programme can be fully filled.
Ms. LEUNG Siu Ki, Jay, Director of University Admissions Office, told Shue Yan Newsletter that after the Hong Kong Government announced on September 21 that HKSYU's FinTech programme included in the SSSDP starting from 2021/2022, the Office has sent letters to all secondary schools to inform their students.
Apply through JUPAS
In JUPAS, HKSYU's BCom (Hons) FinTech programme's code is JSSY01.
According to SSSDP, in the 2021/2022 academic year, a subsidy of up to HK$44,100 per academic year will be provided by the government to each Year 1 student admitted to HKSYU's FinTech programme.
Additional scholarship provided
In 2021/2022, the annual tuition fee of Shue Yan's undergraduate programme is HK$74,280, after deduction of the HK$44,100 government subsidy, the tuition fee will be HK$30,180. In addition HKSYU will provide HK$10,000 Longbow Charity Foundation Entrance Scholarship to all Year 1 FinTech students as an encouragement, and further relief their financial burden.
For recipients who maintains a minimum of CGPA of 3.5 in year 1 second semestercan continue to receive the scholarship in Year 2.
Ms. LEUNG said the University Admissions Office will disseminate the programme information to secondary school students and their parents through various channels, including Hok Yau Club guidebook, newspaper and social media platforms. The office will also make use of the University Information Day on November 14, to introduce the FinTech programme and its admission requirements. The Information Day will be held both on campus and online, students and parents are welcome to join and ask questions.
"Owing to the uniqueness of the FinTech programme, applicants must have Level 3 or above in Mathematics. And those with Level 3 or above in elective subject Information and Communication Technology will be given priority." Ms. LEUNG said.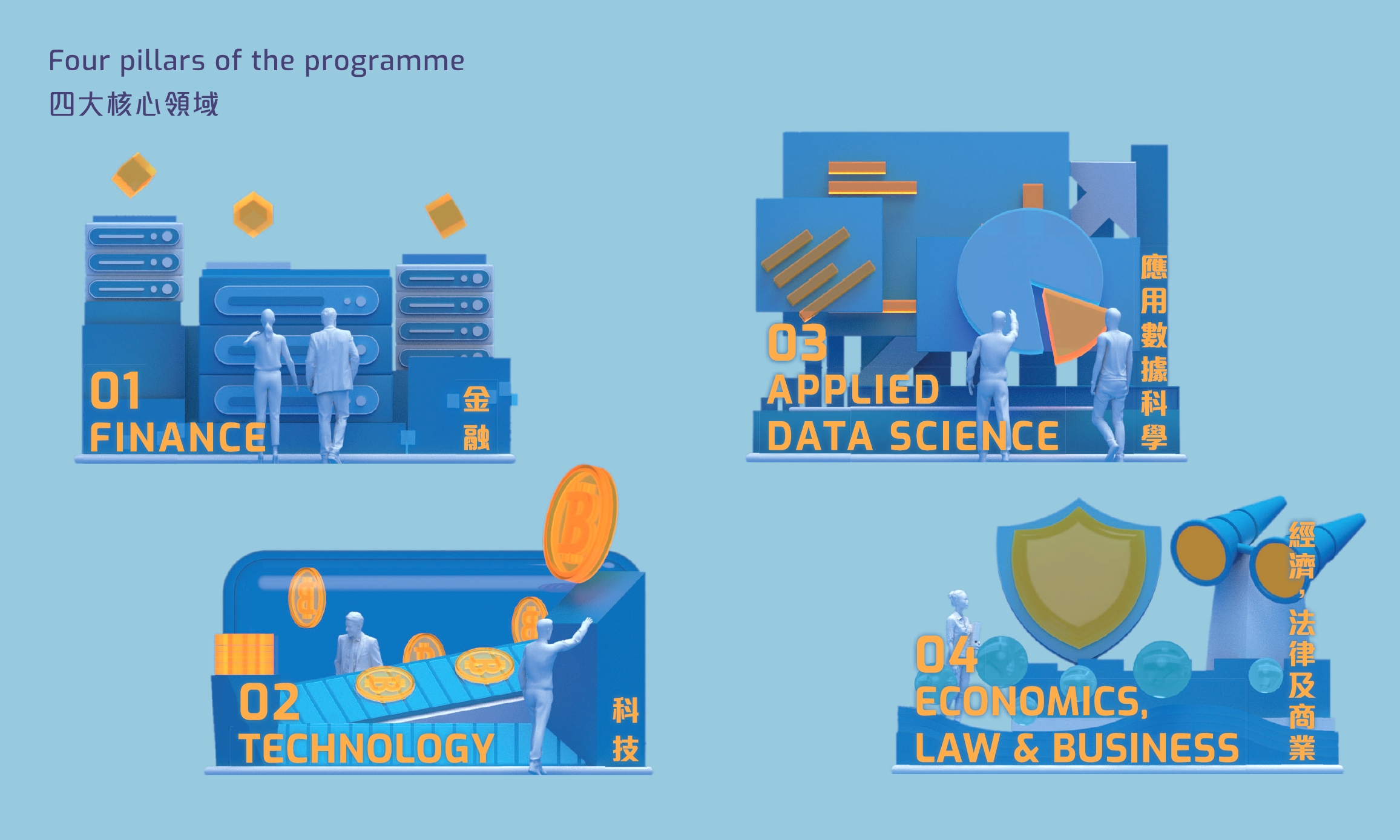 Four Pillars courses
Dr. Rita LI, Director of BCom (Hons) on the FinTech programme, Associate Professor of Department of Economics and Finance mentioned that the design of the FinTech programme is characterised by its multidisciplinary nature, and the fact that it caters to the needs of the future FinTech personnel. The four major areas of study, i.e. (i) finance, (ii) technology, (iii) data science, (iv) economics, law and business are designed according to the FinTech post requirements. As the job market is a dynamic environment, multidisciplinary studies allow graduates to apply for a job easily in four areas instead of one area solely.
She said the whole design is forward-looking, where graduates may start as technical staff in the area of FinTech, finance, or information technology. Moving up the career ladder implies the need for a certain amount of related legal knowledge, e.g. they may have to sign contracts for their companies. Some of these technical staff may open their own start-up companies; at this point, a business mindset with creativity on top of law, will be necessary. Knowledge such as big data also allows the staff to analyse market needs.
Dr. LI pinpointed that AI and robots can perform well, or even better, than human beings in one specific area, but not in interdisciplinary areas. Having said that, the interdisciplinary design will also ensure that our graduates will be able to survive in the future job markets when repetitive works or specialised tasks are increasingly handled by AI and robots instead of humans. As creativity often relies on more than one area of knowledge, the board-based multidisciplinary learning also stimulates students' innovative ideas, and such ideas constitute one of the main areas which AI and robots are presently falling short in.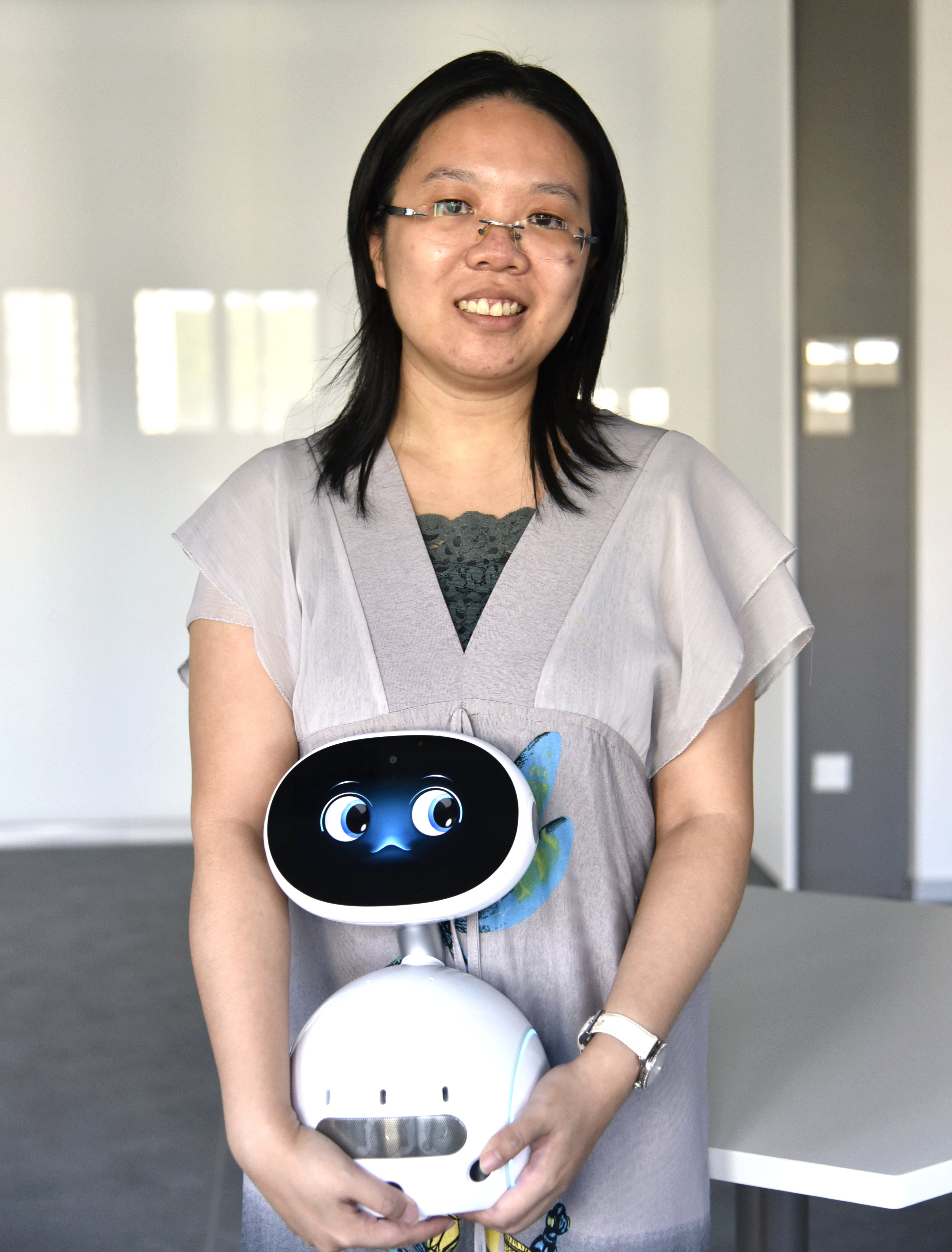 Dr. Rita LI, Director of BCom (Hons) on the FinTech programme, with robot Zenbo Junior
Seek overseas experts' advice
While the majority of the students will work in Hong Kong, ''we acknowledge that some graduates may not work in Hong Kong eventually, and so we have sought advice from professors and vice presidents in Austria, Canada, and Switzerland. In addition, we also invite personnel from the best IT companies in Canada and the US, to give advice when we design the programme structure. Thus, our programme can meet international needs. In the future, we hope that our students take the relevant exams, such as those related to the cloud and AI, before they graduate, meaning that they are not solely fresh graduates with a Shue Yan degree, but that they also have some other relevant certificates. Blended learning with the incorporation of online learning materials in courses such as AI also paves the way for active lifelong learning, so that the students will be equipped with an ability to learn when they work outside and face an ever-growing number of changes as they navigate their own career path. We feel that the Robotics and Big Data lab, as well as the VR and AR labs, will also provide a special learning experience to students.'' Dr. LI added.
Compared to local public universities' FinTech programmes, Dr. LI conceded that Shue Yan's programme gives more consideration to graduates' career needs, and the Department has also contacted some local firms for internship positions.
"As the Director of BCom (Hons) on the FinTech programme, I will meet students during every semester in the future, so as to better understand their needs and to ascertain how we can better shape our programme." She said.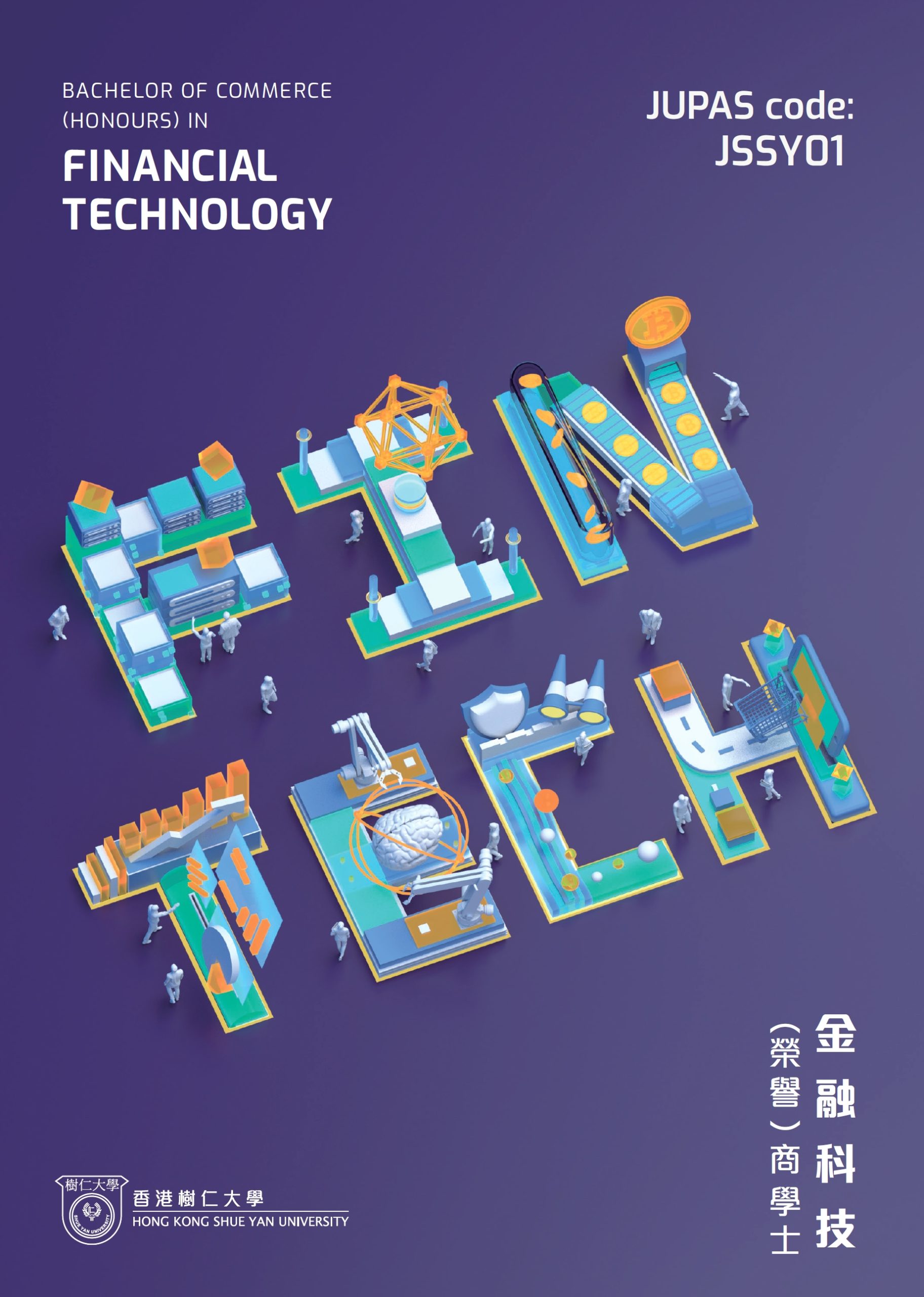 FinTech Programme booklet