Important notes for Year 2/3 claiming offer online
---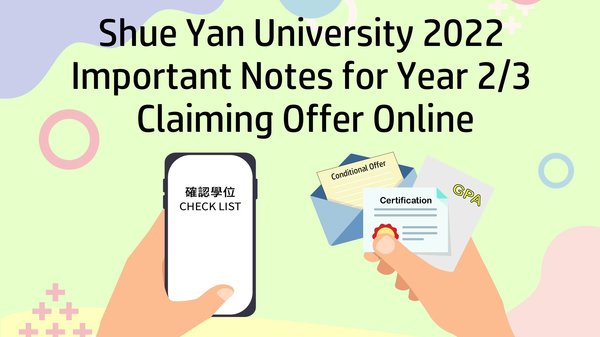 For applicants who have received a conditional admission offer of senior-year entry (i.e. Year-2 or Year-3 entry) from Hong Kong Shue Yan University, please prepare to claim the offer and read the following important notes.
1. Why do I need to claim my offer?
Confirmation of study place (i.e. claim offer) is one of the required registration procedures. Students holding a "Conditional Letter of Acceptance" (conditional offer) need to submit a final academic transcript to the University Admissions Office to prove whether the student meets the admission conditions listed in the letter for verification before granting a study place to a student.
Students can also express their admission intention to the university through this method, or request the Admissions Office to re-examine the application due to reasons, for example:
Ÿ A student holding a third-year entry offer fails to the admission conditions and would like the Admissions Office to consider his/her second-year entry; or
Ÿ A students holding a second-year entry offer has got a final CGPA over 3.0 and would like to appeal for a third-year entry offer; or
Ÿ A student fails to complete all graduation credits of his/her sub-degree programme at the time of offer confirmation therefore needs to postpone the registration,
the Admissions Office will review students' applications accordingly. In addition, students who have successfully completed the confirmation procedures or have been given a new offer will receive a Letter of Acceptance (i.e. firm offer) issued by the University. After receiving the confirmation email, students can enter here to download their latest admission letter. Please follow the instructions on the letter to complete other registration procedures on specified dates.
2. Required documents
Please prepare the following documents and information when filling in the "Claim Offer" online confirmation form (form will be available from 20th Jun to 15th July, 2022):
A. Copy of Conditional Letter of Acceptance ; and
B. HKSYU application number (please refer to your offer letter); and
C. Copy of proof of education qualification including
i. Complete academic transcript(s) including public examination and/or associate/high diploma/bachelor degree, with following items clearly shown:
ü Name
ü Student ID
ü HKID number (If any)
ü Programme title
ü Full names and grades of all studied subjects
ü GPA of all semesters and CGPA; and
ii. Graduation certificate / proof with name, date and programme title clearly shown. If the graduation certificate is not ready, applicants should provide:
ü Associate/high diploma/bachelor degree transcript with wordings such as "Graduate GPA", "Award", "Pass" or "Passed, eligible for award" clearly shown on the transcript; or
ü Testimonial issued by the institution to prove the graduation status of the applicant
*Please note: if you have set a password on the document, you are required to inform the Admissions Office.
3. Fees required
Applicants need not pay when confirming your study place online.
Applicants will receive a Letter of Acceptance via email after their study places have been successfully confirmed. They will be required to pay an enrolment fee of HK$5,000 by the date specified in the email for reservation of study place. The tuition fee shall be paid at the University during registration (registration period July 21 - 22). Eligible applicants can also submit the Non-Means-Tested Financial Assistance Scheme (N.M.T.S.S) application form when paying the tuition fees. For details, please refer to the Registration Procedure enclosed in the letter.
4. Change Entry Option
As mentioned in the first point, if the applicant wants to change the entry year, please choose the appropriate option in the form. The Admissions Office will process your request as soon as possible.
The online confirmation form (Claim Offer) for senior year admissions will be released from 20th Jun to 15th July, 2022 at the UAO Application Portal. Applicants holding the conditional offer shall receive a notification from the University Admissions Office via email, SMS and WhatsApp. For enquiries, please email admit@hksyu.edu or call 2570 7110.